Tteokbokki Sauce Hot & Spicy
Beloved Korean street food and comfort food made with stir-fried chewy white rice cakes covered in sweet, savory, and extra spicy Gochujang-based sauce.
Package Size: 70g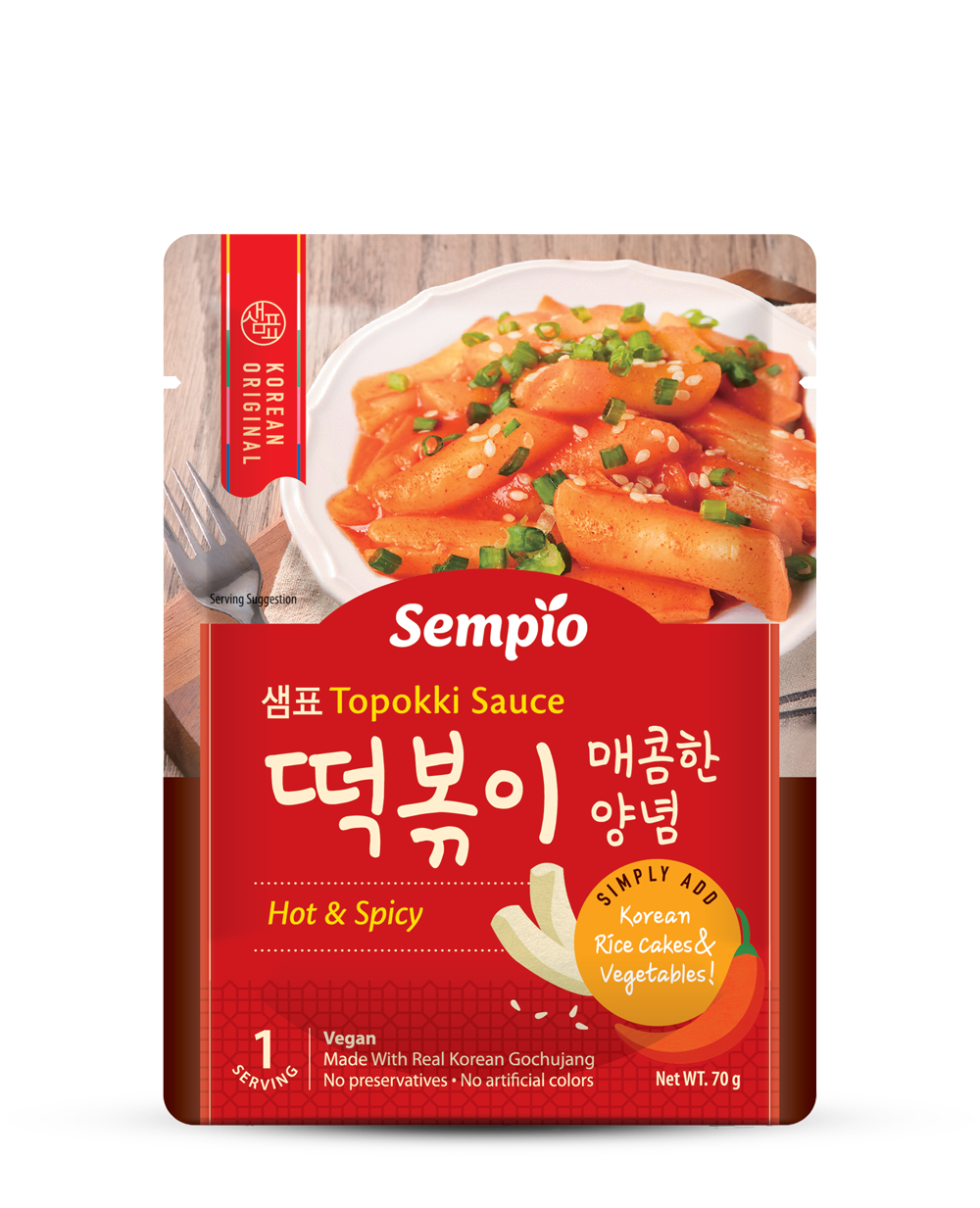 Ingredients
Hot pepper paste [corn syrup, wheat, red pepper seasoning (red pepper powder, salt, garlic, onion), salt], high fructose corn syrup, corn syrup, water, sugar, fermented soy peptide, onion, tomato ketchup, seasoning powder (salt, monosodium glutamate, sugar, cornstarch, tuna, wheat), garlic, apple puree, anchovy stock, alcohol, squid extract, onion extract, wheat extract, oleoresin capsicum
Product Info
Nutrition Info
Product Features:
Tteokbokki is an iconic after-school treat marked by soft rice cakes in a sweet and spicy sauce savored by all. Enjoy Korea's favorite after-school snack quickly and easily from home with Sempio's sweet & spicy Tteokbokki sauce. Our sweet & spicy Tteokbokki sauce is made with the perfect blend of red pepper paste, fruits and seasonings. All you need is some rice cakes, veggies, and our sauce.
Allergy Info:
soybeans, wheat, shellfish(squid) , fish(anchovy & tuna)
Expiration Info:
18 months
Amount Per Serving:
Calories 75 (Calories from Fat 0)
Total Fat:
0g (0%) / Saturated Fat 0g (1%) / Trans Fat 0g
Total Carbohydrate:
33g (12%) / Dietary Fiber 1g (2%) / Sugars 20g