Gochujang Bulgogi BBQ Sauce
Add this sweet and spicy red pepper sauce into any dish of your choice, including Bibimbap, noodles, chicken and dried squid, for dipping, glazing and seasoning.
Package Size: 300g, 500g, 901g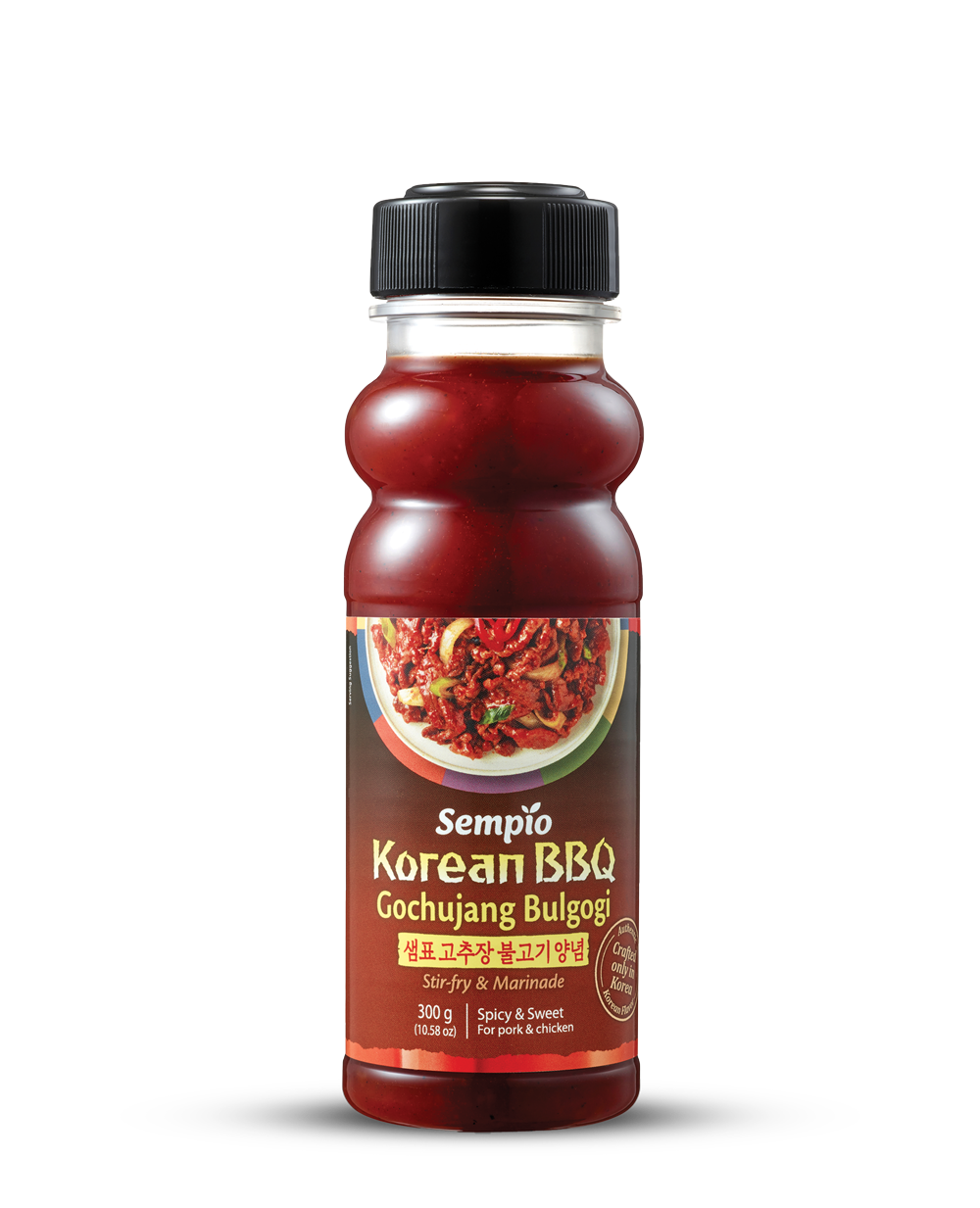 Ingredients
Water, hot chili paste[wheat paste (wheat), corn syrup, red pepper seasoning (hot pepper powder, onion), pregelatinized wheat starch, spirits, soybean paste (soybean)], sugar, high-fructose corn syrup, garlic, salt, naturally brewed soy sauce (defatted soybean, wheat, alcohol), vinegar (barley), modified starch, oleoresin paprika, monosodium glutamate, black pepper, sodium benzoate (less than 1/10 of 1% as a preservative), xanthan gum, oleoresin capsicum, disodium inosinate, disodium guanylate
Product Info
Nutrition Info
Product Features:
A delightfully sweet & spicy Korean BBQ sauce to enjoy real sweet & spicy Korean Gochujang bulgogi with easily from your own kitchen. Uses Sempio Gochujang as a base ingredient to give this sauce a special kick, highlighting sweet, spicy, and umami-rich flavors. Simply stir-fry all of the meat and vegetables together and add sauce for quick and easy gochujang bulgogi straight from home. Extremely versatile, it goes great on all barbecue foods, meat, chicken etc. Ready-to-use, quick, and easy to cook with.
Allergy Info:
wheat, soybeans, barley
Expiration Info:
18 months
Product Certification:
Safe Quality Food (SQF) Certification
Amount Per Serving:
Calories 50 (Calories from Fat 2)
Total Fat:
0g (0%) / Saturated Fat 0g (0 %) / Trans Fat 2g
Total Carbohydrate:
12g (4 %) / Dietary Fiber 1g (5 %) / Sugars 6g(14%)