Gochujang BBQ Chicken Sauce
Enjoy authentic spicy Korean Dak Galbi easily from home with minimal preparation. Dak Galbi is a spicy stir-fried chicken dish, made with a tasty marinade and often including vegetables, scallions, and tteok (Korean rice cakes). Pour this sweet, savory and spicy sauce over your ingredients to make a peppery and flavorful Dak Galbi!
Package Size: 90g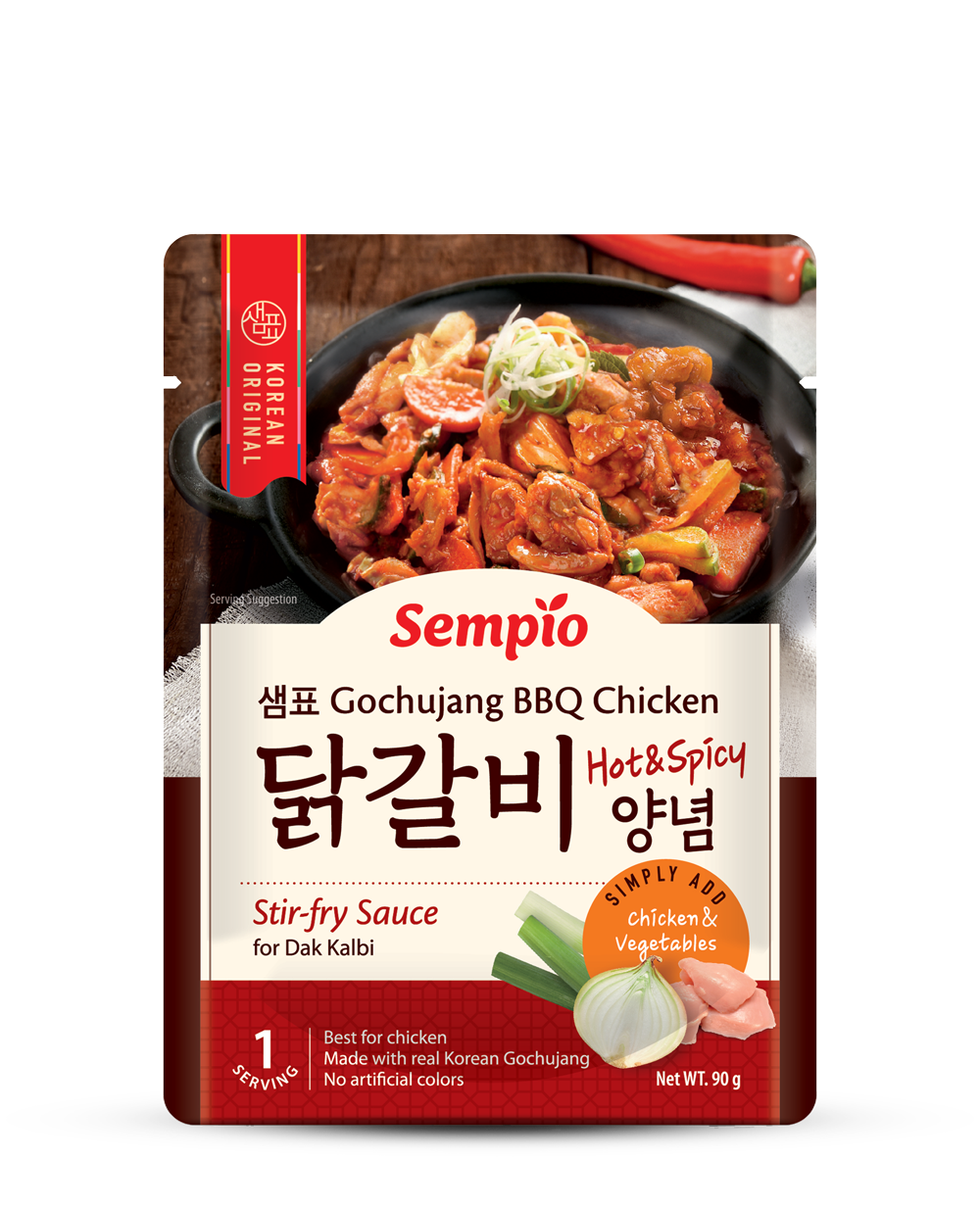 Ingredients
Water, hot pepper paste[corn syrup, wheat, red pepper seasoning (red pepper powder, water, salt, garlic, onion), salt], onion, sugar, garlic, soy sauce, ginger, red pepper powder, yeast extract, wheat extract, spice powder (turmeric, coriander, cumin, fenugreek), black pepper, oleoresin paprika, disodium inosinate, disodium guanylate
Product Info
Nutrition Info
Product Features:
Sempio Gochujang BBQ Chicken sauce is the perfect way to enjoy authentic Dak Galbi with minimal preparation. Our sauce is characterized by a spicy flavor and aroma achieved by a perfect blend of Sempio Gochujang(red pepper paste) and seasonings. All you need is chicken ribs, some veggies, and our sauce to make an easy and delectable dish.
Allergy Info:
soybeans, wheat
Expiration Info:
18 months
Amount Per Serving:
Calories 90 (Calories from Fat 5.4)
Total Fat:
0.6g (1%) / Saturated Fat 0g (1%) / Trans Fat 0g
Total Carbohydrate:
1g (8%) / Dietary Fiber 0.5g (2%) / Sugars 13g