Gochujang Bulgogi Sauce
Enjoy authentic Gochujang Bulgogi at home with this simple sauce. Gochujang Bulgogi is made with thinly sliced and marinaded beef or pork. Pour this sweet, savory and spicy sauce over Jeyuk Bokkeum (spicy marinated pork) to add a smoky flavour, rich in umami.
Package Size: 75g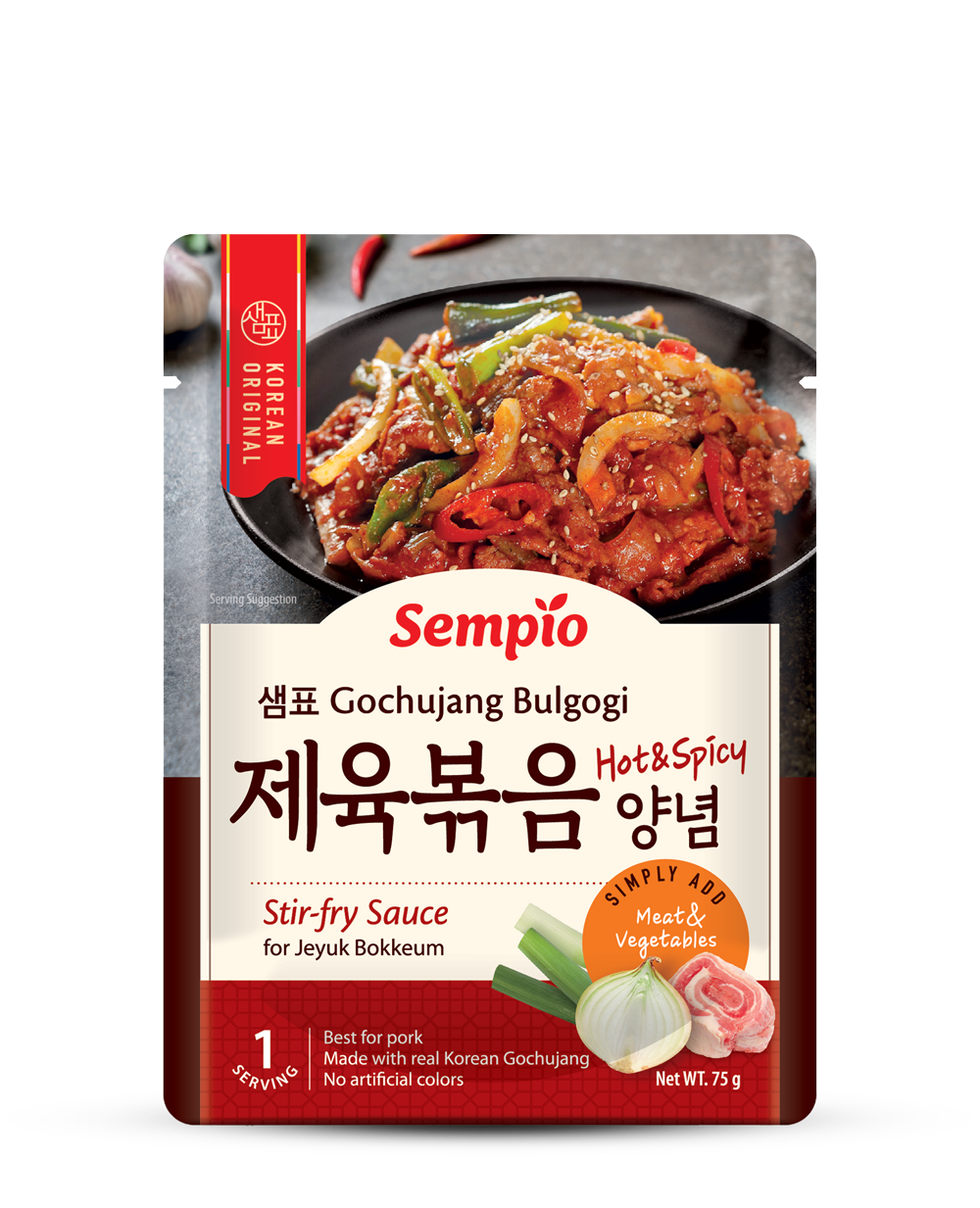 Ingredients
Water, hot chili paste, sugar, high-fructose corn syrup, soy sauce, salt, garlic, vinegar, modified starch, oleoresin paprika, monosodium glutamate, black pepper, sodium benzoate (less than 1/10 of 1% as a preservative), xanthan gum, oleoresin capsicum, disodium inosinate, disodium guanylate.
Product Info
Nutrition Info
Product Features:
With Sempio Gochujang Bulgogi sauce, you can make a simple yet delicious Jeyukbokkeum with minimal preparation. Our sauce is made with a combination of our red pepper paste and various other seasonings to give our stir-fry sauce a deep, spicy flavor. Kiwi, pineapple, and soy sauce are simmered together to bring out the best flavors in meat. All you need is some pork, your favorite vegetables, and some of our sauce to enjoy a delicious stir-fry straight from your kitchen.
Allergy Info:
wheat and soybeans
Expiration Info:
18 months
Amount Per Serving:
Calories 125
Total Fat:
0g (1%) / Saturated Fat 0g (0%) / Trans Fat 0g
Total Carbohydrate:
29g (11%) / Dietary Fiber 1g (2%) / Sugars 22g