Kimchi Jjigae Sauce
This easy to use sauce allows you to prepare authentic Korean Kimchi Jjigae easily from home. Kimchi Jjigae is a beloved national stew rich in spicy, umami flavors. Usually made with Kimchi and other ingredients such as pork, tuna, scallions and onions, simply pour this savory, spicy and slightly sour sauce into boiling water.
Package Size: 75g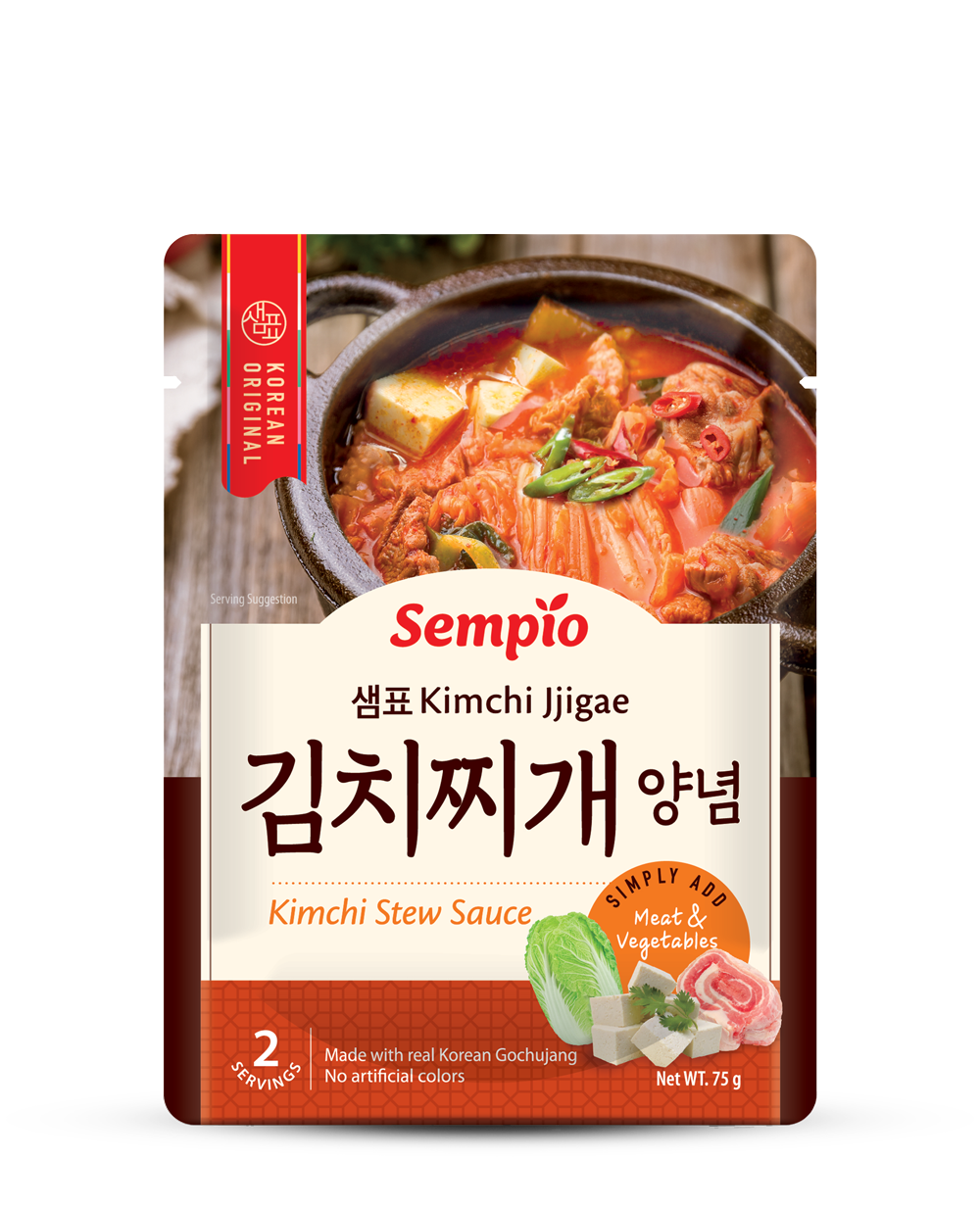 Ingredients
Water, radish extract, red pepper powder, garlic, seasoning powder (salt, monosodium glutamate, sugar, cornstarch, tuna, wheat), soy peptide concentrate, anchovy stock, salt, corn syrup, kelp & radish extract, chili oil (soybean oil, corn oil, red pepper, oleoresin paprika, oleoresin capsicum, garlic oil), vinegar (barley), modified starch, lactic acid
Product Info
Nutrition Info
Product Features:
With Sempio Kimchi Jjigae sauce, you can prepare delicious kimchi jjigae quickly and easily from home without needing your own kimchi. Our kimchi jjigae sauce is made with Sempio red pepper flakes and a secret blend of seasonings and sauces for the ultimate kimchi jjigae flavor. Just grab some pork and napa cabbage and you're all set to enjoy the deep flavor of authentic kimchi jjigae.
Allergy Info:
soybeans, wheat, barley and fish(tuna, anchovy)
Expiration Info:
18 months
Product Certification:
Safe Quality Food (SQF) Certification
Serving Size:
1.3oz (37g)
Amount Per Serving:
Calories 25 (Calories from Fat 9)
Total Fat:
1g (1%) / Saturated Fat 0g (0%) / Trans Fat 0g
Total Carbohydrate:
4g (1%) / Dietary Fiber 0g (0%) / Sugars 2g